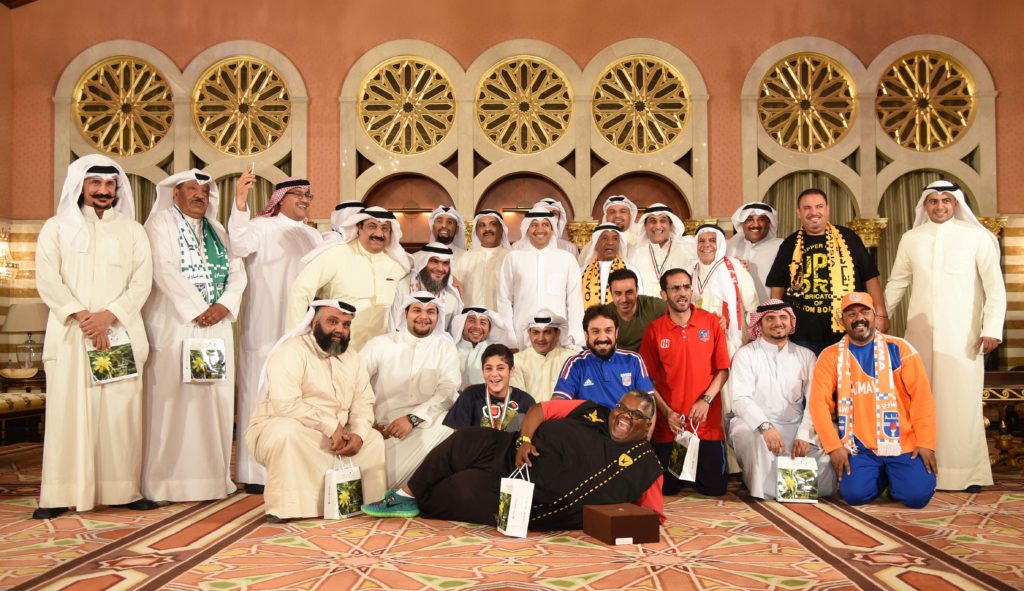 Chairman Anwar Bukhamseen holds reception to recognize players and supporters
Kuwait, May 2016: As part of its commitment towards the society it serves and which comprises football fans associations, Warba Insurance Company sponsored the "Warahom Warahom" Show which airs on Al Rai TV and is presented by Abdulaziz Al-Nabhan, through which the Company gave out prizes and recognition plates to reward the most prominent football fans and supporters in the 2015-2016 season.
The Chairman of Warba Insurance, Mr. Anwar Bukhamseen, also held a separate reception at Diwan Bukhamseen to recognize local fans associations and supporters that include actors, which showed great enthusiasm through the "Warahom Warahom" Show.
Football players were also recognized during the reception, including Bader Al-Mutawa who gave an exceptional performance in the last season. Other players who were recognized were Faisal Al-Tamimi, Ali Al-Qallaf, Khaled Al-Kandari, Jaber Al-Enzi Jaafar Abu Alhassan, Hassan Al-Qallaf, Hamza Al-Shatti, Ziad Al-Shatti, Salah Al-Mutairi, Adel Al-Enzi, Abdul Latif Al-Dosari, Ali Al-Rayess, Faisal Bu Jabal, Mohammed Al Awadi, Mohammad Al-Kandari, Mohammed Al-Mekaimi, Mahmoud Dawood, Mustafa Nasrallah, Haitham Al-Sunni, as well as the Kazma Association and the Diwan Kwetawy, which represent the Kwetawy, Arbawi, Salmiya, Haydoo, Bloushi associations and Al-Awadhi Group. The Company also awarded three actors, Abdul Rahman Al-Akel, Shaaban Abbas, and Shehad Hajieh for their exceptional support of their teams in every game despite their busy work schedules.
During the reception, Bukhamseen said that the Kuwaiti sports will return to its past success, and added that the 1982 generation of athletes will be seen again, as well as great fans to support them on the field.
On another hand, Bader Al-Mutawa thanked Warba Insurance and Mr. Anwar Bukhamseen for supporting sports and the fans who are greatly invested in supporting their favorite clubs. He called on other companies to also invest in initiatives that provide support to fans and supporters who are have a significant role in spreading enthusiasm and encouraging players on field.
Warba Insurance is a strong supporter of social initiatives that benefit the Kuwaiti society, whether health, servicing or awareness initiatives, to the benefit of the Kuwaiti society.
Warba Insurance was established in 1976, with Kuwait's heritage, values and traditions at heart. The company has since provided insurance services to individuals and companies in utmost integrity and security. With 40 years of experience, Warba Insurance continues to provide the highest standards and service quality in insurance policies that meet the needs of the segments it serves.