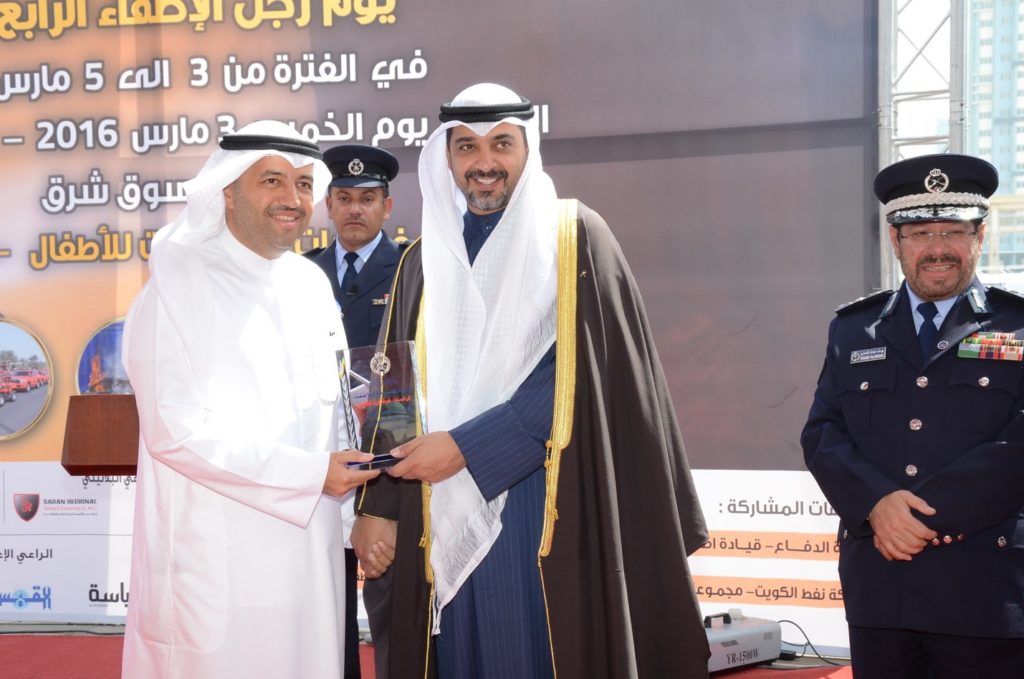 Warba Insurance sponsors the 14th Firemen's Day Festival
Kuwait, March 09, 2016: Warba Insurance today announced that it has sponsored the 14th Firemen's Day Festival held under the patronage of his His Excellency the Minister of State for Cabinet Affairs, Sheikh Mohammed Al-Abdullah Al-Mubarak Al-Sabah. Warba Insurance was the main and platinum sponsor of the Festival, as part of its continued support to the efforts of firemen in their work to protect lives in Kuwait.
In the opening ceremony, His Excellency Sheikh Mohammed Al-Abdullah Al-Mubarak Al-Sabah presented a plaque to the Chairman of Warba Insurance, Mr. Anwar Jawad Bukhamseen, in recognition of the company's continued support of the firemen and those working in fire departments. The event, which was held over a two-day period in Souq Sharq, was also attended by the Chief Executive Officer (CEO), Mr. Anwar Fouzan Al-Sabej, as well as members of the management team.
Bukhamseen said: "We, at Warba Insurance, are very proud to sponsor the Firemen's Day event in support to the efforts and great work achieved by the unknown heroes of Kuwait. Firemen put their lives on the line each day to save our lives. We have prioritize supporting firmen and institutions leading the safety and security of people as part of our corporate social responsibility. On behalf of the company, I would like to thank every fireman and person working at the Kuwait Fire Service Department for everything they do for the benefit of our society."
Warba Insurance is a strong supporter of social initiatives that benefit the Kuwaiti society, whether health, servicing or awareness initiatives, to the benefit of the Kuwaiti society.
About Warba Insurance:
Warba Insurance was established in 1976, with Kuwait's heritage, values and traditions at heart. The company has since provided insurance services to individuals and companies in utmost integrity and security. With 40 years of experience, Warba Insurance continues to provide the highest standards and service quality in insurance policies that meet the needs of the segments it serves.