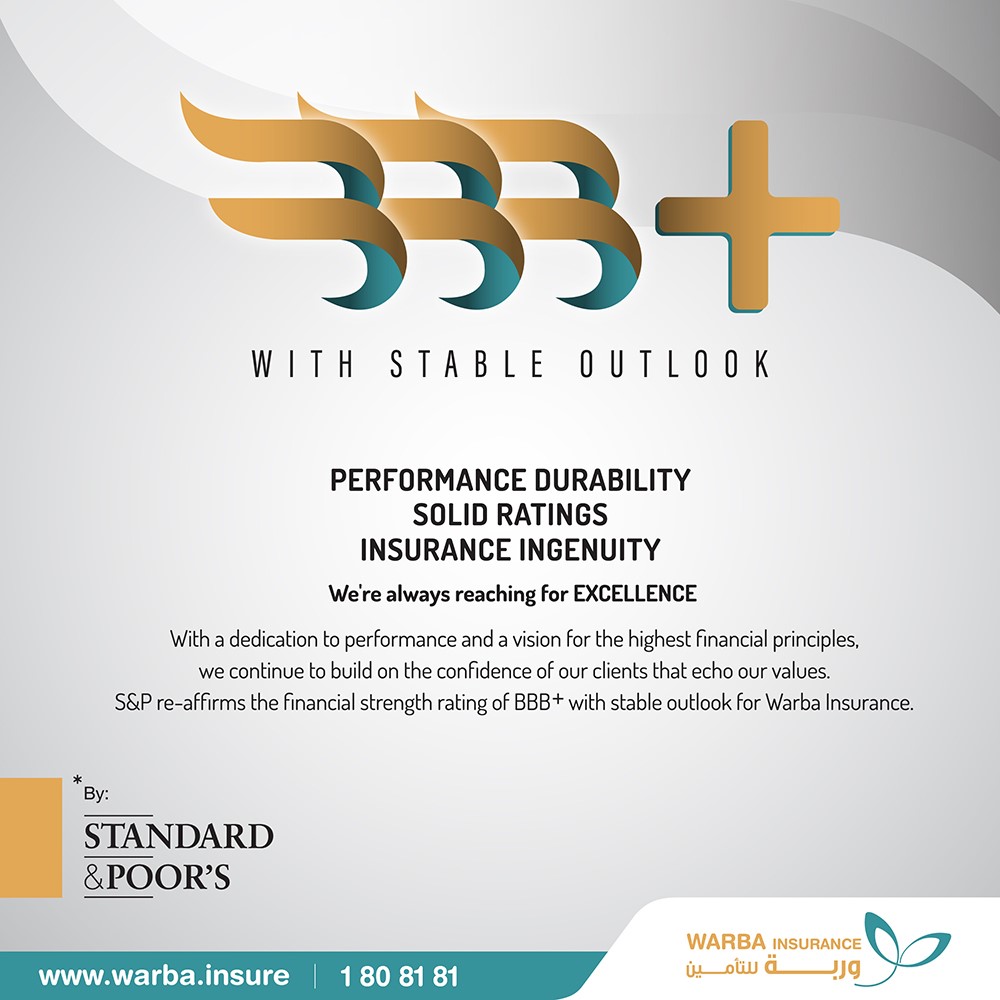 Warba Insurance Company announced that its global rating agency "Standard & Poor's" has raised the credit rating of the Company and Warba Insurance to BBB + with a stable outlook.
The agency noted in its report that this raise the rating is due to the remarkable and outstanding development done by the company in the corporate risk management company with a very strong enough stability of the financial solvency of the company's capital and improved profitability at the same time. And reflect the current rating level stable business position of the company, increasing the total insurance premiums the company, and decreased net insurance expenses of the combined ratio to 84%, and improved net income and total shareholders' equity after dividends for them as in June 2016 about 44.7 million Kuwaiti dinars, as well as the establishment of committees emanating from the board of Directors, which monitors the risks they may be exposed to the company and submit its recommendations to the Governing Council in order to take the necessary decisions.
The agency also pointed to the excellence and effectiveness of the policy and strategy is developed and applied by the investment Warba Insurance Company. It has also been based on the ability to classify and Warba Insurance Company to continue to enjoy the competitive situation in the insurance sector in Kuwait for many years, where the company is one of the leading insurance market and major state companies.
And congratulated the Chairman of Warba, Mr. Anwar Jawad Bukhamseen, all of the shareholders and the Board of Directors singled to mention the members of the Executive Committee and Investment as well as the members of the Commission on risk and compliance and governance sector, risk and compliance management and staff of the company on this supervisor progress, as is the continuing effort and work to get the company to the highest levels of the global rankings.
The Warba Insurance is one of the largest insurance companies in the State of Kuwait in terms of the size of the insurance underwriting, as well as providing a wide range of excellent insurance products that cover the sectors of life insurance and general insurance.